Industry Update
April 12, 2021
Vaccines: Anyone 16 years or older who lives or works in Idaho is eligible for the Covid 19 vaccine. IOGA, Oregon Outfitters & Guides Association, PNW Ski Areas Association, and America Outdoors sent a letter to the Health Authorities of ID, OR, and WA urging them to prioritize outfitters, guides, and ski area staff for vaccines.
Ramping up for the summer season? Looking for training opportunities? The River Management Society and the National Park Service teamed up to create A-DASH: a new collective made up of outfitter owners, managers, guides, academics and trainers that has come together to help bring awareness to issues around discrimination and sexual harassment in the river guiding community. A-DASH provides the resources and facilitators that outfitters need to begin this meaningful conversation and maintain an ongoing dialogue with their staff. https://www.a-dashcollaborative.org/
Change to Francois Rapid (Cabarton section, N. Fork Payette): 2 large boulders have appeared in Francois Rapid, guides with Cascade Raft & Kayak informed IOGA, the Licensing Board, and in turn, Idaho Transportation. ID Transportation indicated to IOGA that they will post warning signs and are making plans to remove the boulders.
Hunt Sector / Allocation:
Outfitters and Guides Licensing Board meeting to discuss designation of allocated tags. April 15th at 10AM Mountain Time via zoom https://us02web.zoom.us/j/84494302321?pwd=Z2R1MytaNGdoQWhYK1hML0pqUnB6Zz09.
Fish & Game had a negotiated rule making meeting on March 31st. IOGA proposed increasing Outfitter set aside tags for elk and deer to the statutory maximum of 25%. Read IOGA's Comment. No word yet if this proposed rule will be brought before the commission at their May meeting. For more information see our most recent hunt outfitter newsletter.
Upcoming Meetings
Save the Date! The IOGA 2021 Annual Meeting is planned for November 30th - December 2nd at the Red Lion Downtowner in Boise. Reserve a room at a discounted rate, use promo code IOGA1129. Submissions for Cowboy Poetry are open. If you would like to be a vendor feel free to drop us a line at [email protected], stay tuned for more updates and information.
East Idaho Outfitters/Guides Meeting: Meeting hosted by IOGA with East Idaho Outfitters/Guides, and representatives from Fish & Game, Teton County, and Outfitters and Guides Licensing Board. For meeting information see our newsletter.
Nez Perce - Clearwater National Forest Outfitter Meeting: The Nez Perce - Clearwater National Forest and IOGA are co-hosting the Annual Outfitter Meeting. For meeting information see our newsletter.
IOGA in the News
Salmon, Dams, and the NW in Transition Panel: On March 18, IOGA joined Idaho Wildlife Federation, Trout Unlimited, and Backcountry Hunters and Anglers on a panel hosted by Meateater for a discussion about Rep. Simpson's new Northwest in Transition concept. Access a recording of the panel discussion.

River Talk Podcast: Listen to episode #104, Aaron talks about Congressman Simpson's plan.

Opinion Piece by Roy Akins: Check out Roy's piece in the Idaho County Free Press.

LTE by Colby Blair: Check out Colby's Letter to the Editor in the Lewiston Tribune.

Opinion Piece by Curt Chang: Check out Curt's Op-Ed in Paddling Life.

Outdoor Idaho Magazine: Outfitted adventures in Idaho and IOGA are the centerpiece of issue #4, check out the digital version here (available starting 4/15/21). [Clarification: the list of "recognized" outfitters at the end of the piece was not chosen by IOGA, the publisher chose an arbitrary number of outfitters from the full list of member-outfitters]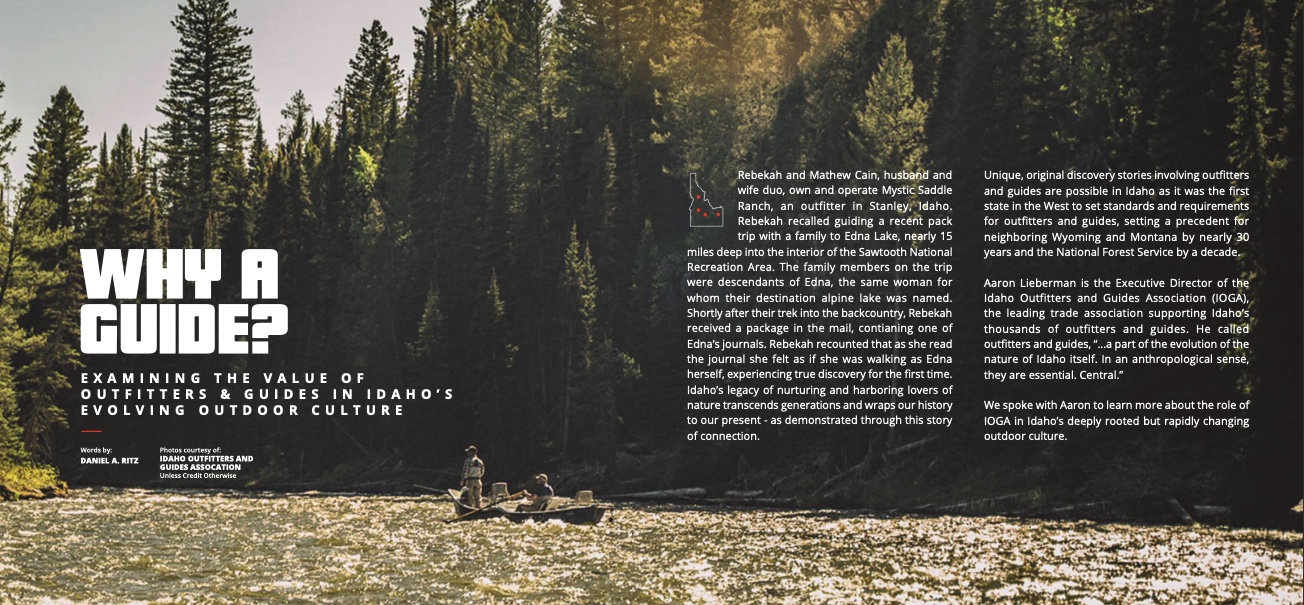 Middle Fork Outfitters Association Video Series: MFOA has created a series of informational videos to answer questions on Congressman Simpson's proposal, river guides ask questions and experts answer. Videos are posted on the MFOA's Facebook page, View the videos here.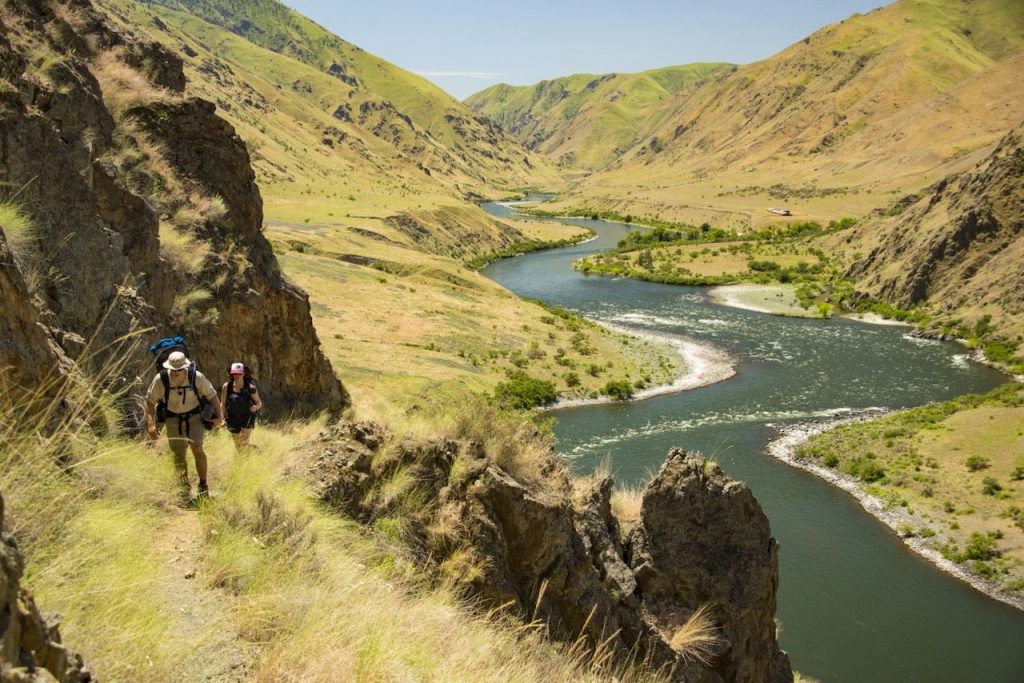 News from our Land Management Agencies
Fish & Game Sets Spring Chinook Season: Thursday, March 18, the Idaho Fish and Game Commission approved spring Chinook fishing on the Snake, Lower Salmon, and Little Salmon rivers to start April 24, and run until August 8, 2021 unless closed earlier by the Fish and Game director. Because returns of Chinook to the Clearwater River are forecasted to be insufficient to meet hatchery broodstock needs, no season was opened on the Clearwater River. Press Release
ID-55: Spring construction has started on ID-55 near Smiths Ferry, expect full road closures Monday-Thursday 10AM-2PM. For more information visit: itdprojects.org/id55smithsferry
Sawtooth Outfitter / Guide Management Plan: The Sawtooth National Recreation Area requests public comment on their proposed land-based Outfitter and Guide Plan.
Read the proposal: https://www.fs.usda.gov/project/?project=57197&exp=overview.
Use this form to send comments to IOGA so we can advocate for outfitters/guides
Send your individual comments to SNRA by May 2nd
Stan Potts Area: The Salmon-Challis National Forest and the Idaho Outfitters and Guides Licensing Board are considering issuing an outfitting and guiding special use authorization (permit) for big game hunting in the Stan Potts Area (within ID Game Unit 20A). IOGA submitted comment to the Forest Service in support of outfitted hunting operations in the Stan Potts Area.
USDA Invests in National Forests: The US Department of Agriculture will invest $285 million to help the Forest Service address critical deferred maintenance and improve transportation and recreation infrastructure on national forests and grasslands. This $285 million investment is made possible by the newly created National Parks and Public Land Legacy Restoration Fund, established in 2020 by the Great American Outdoors Act. These funds will allow the Forest Service to implement more than 500 infrastructure improvement projects essential to the continued use and enjoyment of national forests and grasslands. For more information: https://www.fs.usda.gov/managing-land/gaoa
The Bureau of Land Management, Mask Requirement: Press Release
Legislative Update
America Outdoors / National:
SOAR Act: The Simplifying Outdoor Access for Recreation Act is making the rounds on Capitol Hill. America Outdoors Association (AO) provided input to the latest version of the bill. Once the bill is introduced this April, AO will be looking to its outfitter members to build broad support for the final passage of this bill through U.S. Congress, and as in the past, IOGA will be looking to our members for engagement and soliciting ongoing support from the Idaho delegation. For more information, updates on the SOAR Act, please get in touch with us.
PPP Extended through May 31st: Those who have not yet applied for the Paycheck Protection Program still have an opportunity to do so through May 31. For outfitters who operate predominantly in the Fall, this is welcome news. Watch the webinar on maximizing potential with a PPP Second Draw, and with balancing your forgiveness calculation against a tax credit for employee income. https://www.youtube.com/watch?v=SAMGQGsGkD0&t=1s
Idaho Legislature:
H 91 passed and is now ID law: This legislation adds clarifying language to Section 1.(a) of Idaho Code 36-1103 to allow for the use of non-edible portions of game for bait when trapping. It also clarifies the use of salvaged wildlife for bait while trapping.
H 93 passed and is now ID law: fee increases for nonresidents only at Idaho State Parks.
Week 12: The Governor extended the Idaho tax filing deadline to May 17th. The Governor issued his first veto, H0214 is a bill concerning day-to-day operational duties of the Idaho State Tax Commission Chairman. The Governor convened a round table discussion on transportation needs and funding. For the past few years there have been limited funds for big projects to address congestion and growth around the state.
Week 13: The legislature is back in session after a 2 week break (due to concerns of Covid transmission). The focus has been on budgets, the Idaho Department of Health and Welfare's Welfare Division budget passed the House; many budgets (including the higher education / community colleges / universities budget) failed and were sent back to the Joint Finance and Appropriation Committee for revision. The Governor's office put together an outline for the American Rescue Plan Act (APRA) funding that is coming to Idaho from the federal government. The Governor's office is looking for authority to spend up to $50 million of the $1.18 billion coming from APRA on Covid related expenses and distribution to state agencies for specific programs (like housing assistance through Idaho Housing and Finance Association).
S. 1110 (signature requirement for ballot initiatives) passed the House this week 51-18 after passing the Senate earlier in the session 26-9. The bill requires 6% of registered voters in each of Idaho's 35 legislative districts to qualify any initiative for the ballot. (Currently Idaho law requires 6% in 18 of the 35 districts). A similar bill was vetoed by the governor last year. Former Idaho Supreme Court Justice Jim Jones delivered 16,000 signatures from Idahoans to the governor pleading for him to veto the bill.