Outdoor Recreation and Public Lands
Experts discuss latest outdoor trends, innovative solutions at Andrus Conference
By Steve Stuebner
Remember the international best-selling book, "Last Child in the Woods – Saving our Children from Nature-Deficit Disorder," by Richard Louv?
Published originally in 2005, the book predicted there would be a huge drop-off in outdoor recreation use in America because children were far more interested in watching TV and playing video games. Studies showed the children spent less than 7 minutes a day outdoors, while they watched TV and played video games for over 7 hours a day.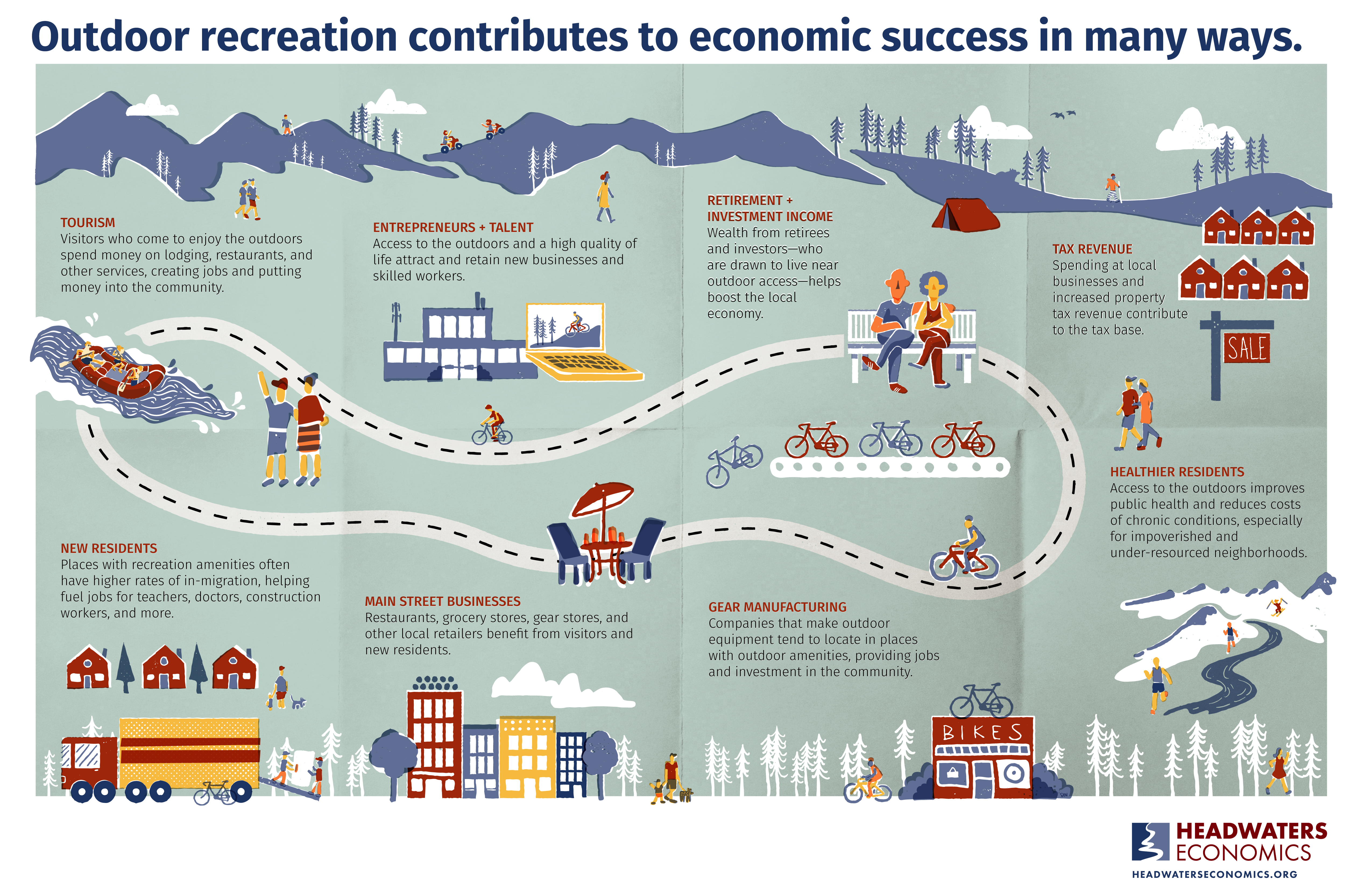 Almost 20 years later, Louv's doomsday predictions have not played out the way he thought. Today, we are seeing record numbers of Americans and Idahoans participating in outdoor recreation activities.
In April, the annual Andrus Conference on the Environment focused on the topic of Recreation and Public Lands in a one-day meeting at Barber Park in Boise. National and local speakers talked about the challenges of managing record numbers of Americans engaged in recreation, positive economic impacts from outdoor recreation, and how we might find solutions for a sustainable future.
While there were numerous campaigns that followed Louv's book, including the "Unplug and Be Outside Campaign" that occurred in Idaho and throughout the nation, it was the Covid pandemic that brought a huge resurgence of outdoor recreation use in 2020 when people had nowhere else to go for entertainment.
Our public lands became a rare, safe place to go, when many other venues were shut down for public health reasons. Even as movie theaters, bars and restaurants reopened for public use, outdoor recreation has continued to grow at a rapid pace and set new records across the board.
Now, the big question is how to manage for continued growth in outdoor recreation, prevent our beloved outdoor recreation destinations from being damaged and overrun with people, and chart a more sustainable future with shared responsible use of those resources by existing and new user groups.
At the Andrus conference, we heard from speakers about examples of proactive funding and management and communities that are effectively managing the growing throngs with dependable funding to manage outdoor resources. But we also heard a lot about deficient funding for outdoor recreation and failing to keep pace with the need to take care of our public lands and guard against overuse.
"Our public lands are anchors for recreation," said Emily Wakild, Ph.D., the Cecil D. Andrus Endowed Chair for Environment and Public Lands at the Andrus Center for Public Policy at Boise State University. "They provide opportunities for personal health and fitness, opportunities that last a lifetime.
"But how can we manage for the social and economic benefits that come from recreation. How can we manage the impact of growing numbers of people – a lot more people - who want to recreate outdoors? How can we manage the ecological impacts without overwhelming our natural resources and resolve social conflicts?"
Wakild set the stage for discussions to follow. In the end, nearly all of the best examples of doing things right were very local in nature. One of the key over-arching themes was the challenge of finding sufficient levels of funding to manage recreation at the local, state and national level. Most people recognize, and data supports, that recreation is a HUGE economic force, but Congress chronically underfunds our public land management agencies.
Outdoor recreation is a big economic driver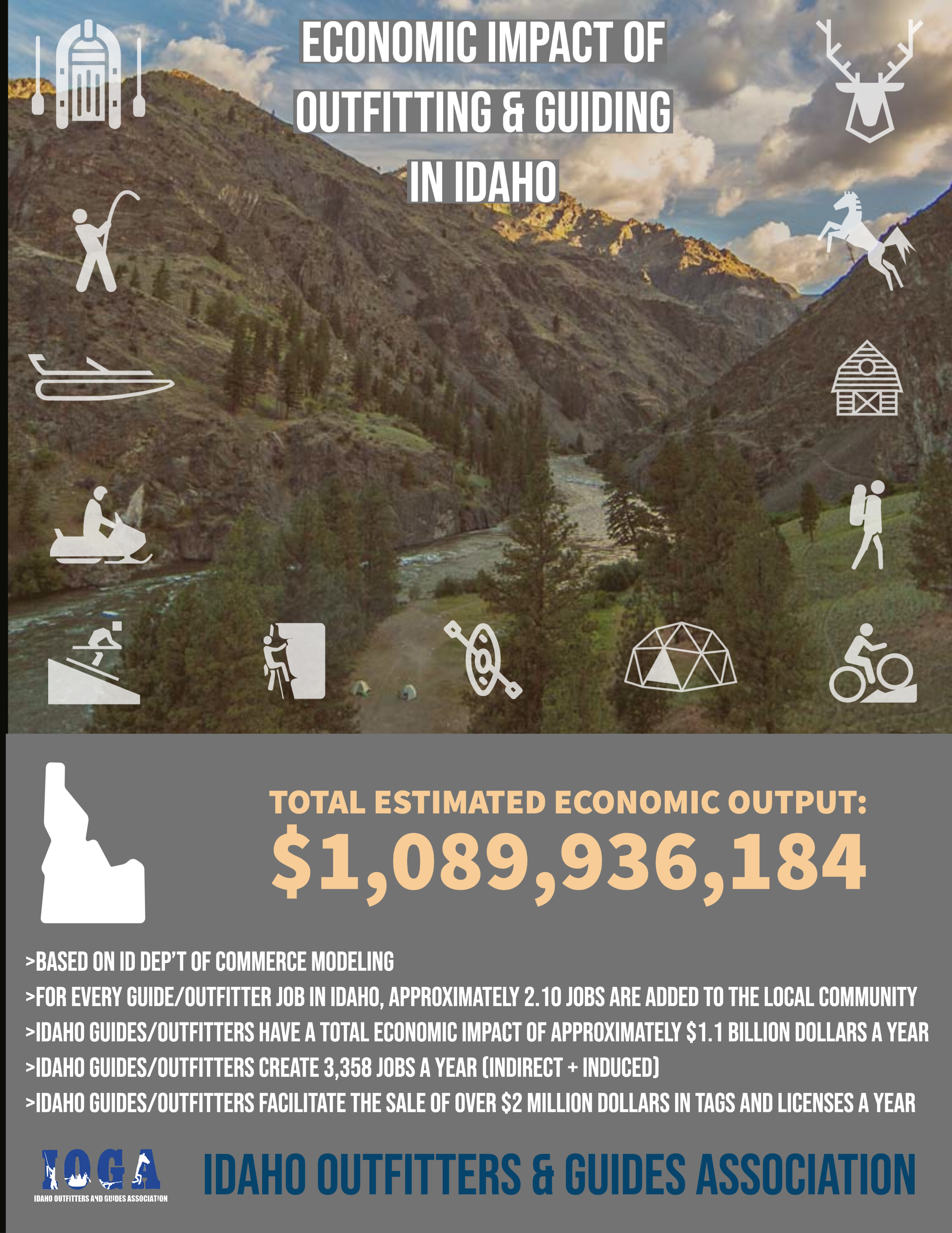 Bob Keiter, a professional of law at the Wallace Stegner Center of Land, Resources and the Environment at the University of Utah, noted that the economic impact of outdoor recreation in America is $454 billion. "It transcends all other multiple uses on our public lands except oil and gas," he said.
Luis Benitez, former director of the Colorado Outdoor Recreation Industry state office, said outdoor recreation is a "massive resource" with a $682 billion economic impact with 4 million jobs nationwide. "It's bigger than the auto industry and big pharma industry combined," he said.
In Idaho, the state's outdoor recreation economy generates $7.8 billion in consumer spending, supports 78,000 jobs, $2.3 billion in wages and salaries, and $447 million in state and local tax revenue, according to a national study by the Outdoor Industry Association. Idaho's outfitters and guides contribute $1.1 billion to the state economy, support 3,358 jobs and facilitate the sale of more than $2 million in Idaho Fish and Game licenses and tags per year.
But our national land management agencies such as the National Park Service, U.S. Forest Service and Bureau of Land Management are all underfunded and can't manage growth without more money, speakers said. Keiter suggested that we need new national outdoor recreation legislation to give the industry more resources and clout.
Examples of places where outdoor recreation management is working well, however, were far more local in nature, with their own sources of funding. The Sand Hollow area on Bureau of Land Management property outside of Moab, Utah, for example, has a fee booth, where they collect user fees from people who want to camp near the popular Slickrock trail system, and those fees cover costs like garbage collection, campground upkeep, trail maintenance, etc. In addition, Moab can use state tourism dollars from hotel taxes for managing resources.
Ridge to Rivers trail partnership touted as success story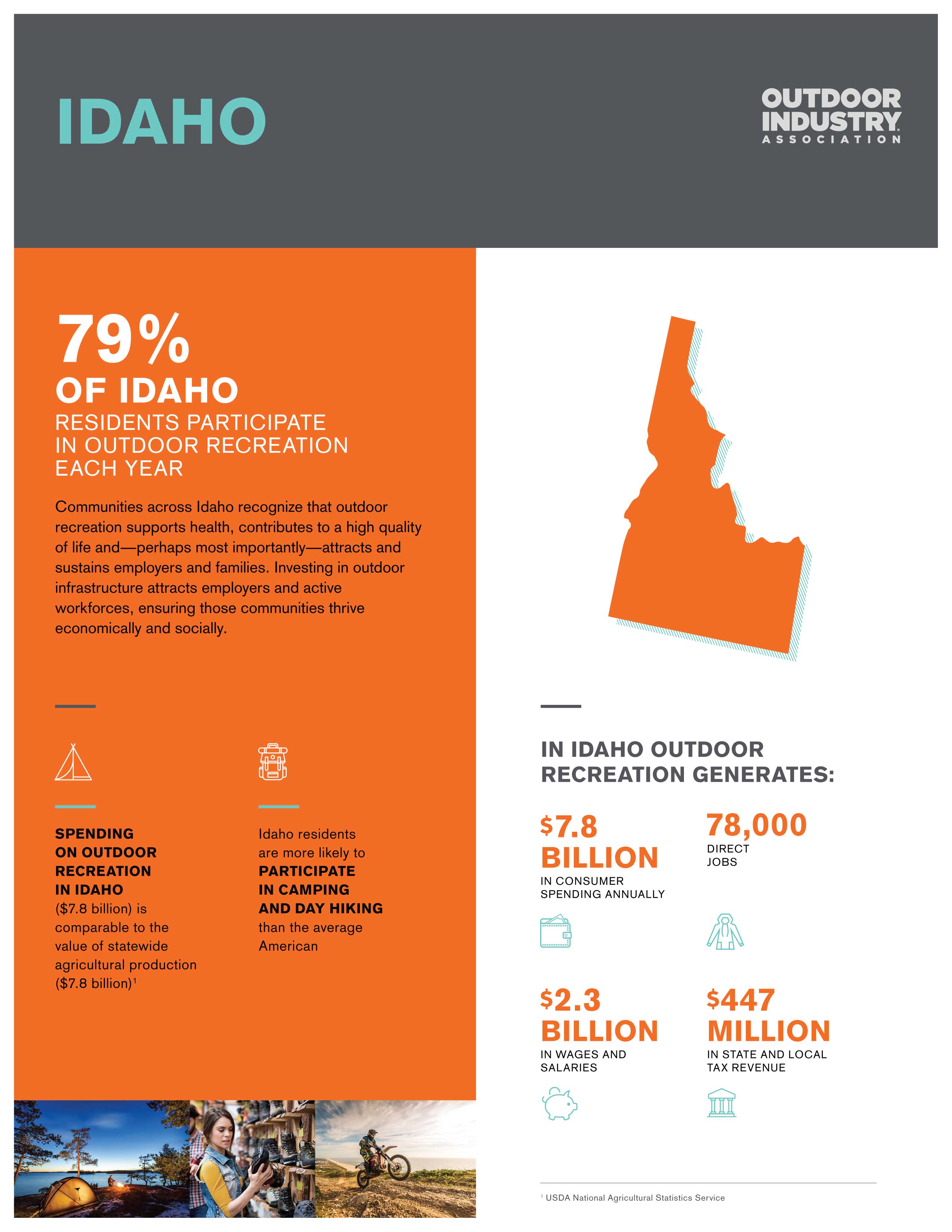 Two $10 million Open Space property tax levies passed by Boise voters in 2001 and again in 2015 have allowed the Ridge to Rivers (R2R) trail partnership to purchase lands to improve trail connectivity, protect wildlife habitat and open space, and hire more hands for trail maintenance and trailhead upkeep. That project also was heralded as a success story. Frequent surveys with trail users allow the R2R team to keep pace with management challenges and involve users in choosing the best solutions, including one-way trails in popular areas, and alternating uphill and downhill directional trails set by the day of the week to keep everyone happy.
Record-setting use in Idaho's 30 state parks led the Idaho Legislature to allocate $100 million to the Idaho Department of Parks and Recreation in the 2023 session to allow IDPR to catch up on a big backlog in park maintenance and upkeep. That also was heralded as a win for outdoor recreation.
The need for more public education about sustainable outdoor recreation was touted by Cameron Sholly, superintendent of Yellowstone National Park. "Seventy percent of our visitors are seeing the park for the first time," he said. "We need to make sure our visitors come to the park as land stewards. We help people commune with nature, but we need to teach them outdoor ethics so they can learn about nature without causing harm to the resource."
Supporting outfitters and guides who are big players in taking people on a wide variety of outdoor trips in a fun, safe and responsible way is another solution, noted Eric Weiseth, owner of Orange Torpedo Trips, an outfitter based in Riggins.
Cowboy hats, boots and guns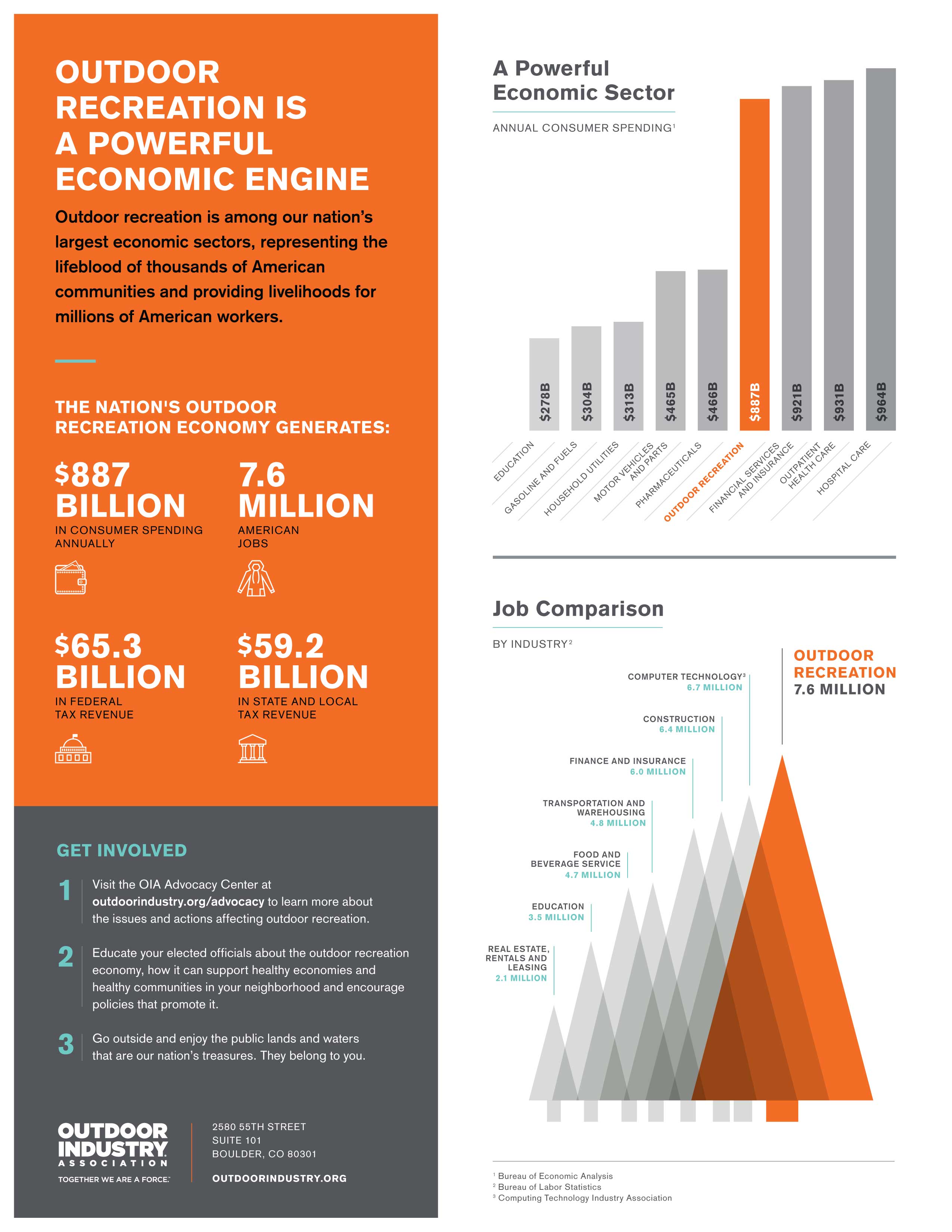 "Outfitters are an interesting group of folks in Idaho because you've got a mix of hunting and horseback outfitters wearing cowboy hats, boots and guns, while you have raft guides wearing Teva sandals and Patagonia clothing, but we all get along amazing well," Weiseth said. "Outfitters are advocates for outdoor places. We have the equipment and skills to show people a good time in places where they wouldn't be able to do that on their own."
And yet, outfitters have recently become a target of paying additional fees to operate in our national forests, where the Forest Service is running short of money, or targeted with reductions in allocated use, where overall use impacts are being felt (overwhelmingly driven by increase in non-outfitted public use). That kind of initiative is off-target, Weiseth said, pointing out that most outfitters live in very small towns with populations of less than 500 people, and they operate on thin profit margins. Many outfitters hold extra jobs to make ends meet.
Perhaps some of the best solutions involve building a broad range of partnerships to take care of our outdoor recreation resources, many speakers said, and also working to create and sustain nonprofit foundations that exist to raise funds for high-priority projects on national forest lands, national parks and BLM lands.
Partnerships and Nonprofit support through Foundations
Former Montana Gov. Steve Bullock is now the chairman of the Foundation for America's Public Lands, a new nonprofit formed to provide financial support to the BLM. The BLM gets the least amount of public funding out of all of the public land management agencies, while they manage a huge chunk of real estate nationwide, wild and scenic rivers, wilderness areas, and millions of acres of multiple use lands where people can go hiking, mountain biking, OHV riding, rafting and kayaking, fishing and hunting.
"We need to triple the investment we're making in the BLM trails infrastructure," Bullock said. "The only way we're going to get there is through partnerships and collaboration."
And so, no earth-shaking solutions came to the fore at the Andrus conference, but perhaps, the best local solutions were a touchstone for issues that need bigger solutions. Just throwing money at problems won't necessarily solve anything, experts said, but the land management agencies need to be more proactive and embrace change.
Chronic underfunding has decreased morale among the rank and file in the Forest Service and the BLM, officials said, and supported a "culture of no." In other words, if anyone comes forth with a creative idea, it's always easier for the land managers to say "no."
Funding levels for the agencies have increased significantly in the last several years, however, brightening the mood.
"We don't need a change in policies or laws as much as we need to find the land management officials who are excited about embracing new solutions," Weiseth said. "Find the people who want to get things done and ride that horse as far as you can. Those people are out there, and they need to be rewarded for being proactive and innovative for the betterment of the resource."
(end)