Industry Update

The Thaw is up and running! Check it out HERE
Thank you to all our members who donated trips and merchandise to our annual fundraiser, and to members who have given additional cash donations this year.
Use this informational flier to help us spread the word!
LOBBY DAY VOLUNTEERS NEEDED February 22nd and 23rd
Lobby Day is an important event for IOGA members to connect with elected leaders, and share and gather information on industry related issues. Join us in Boise! A group heads to the statehouse to lobby, while a crew prepares wild game and dutch oven meals at the Basque Center for our "Taste of Idaho Outfitting" event.
Volunteers Needed on February 22nd and 23rd. Volunteer to lobby at the Statehouse or help prep food for our dutch oven dinner.

Donations Needed, Big game or fish, a sidedish, or a dessert. Currently looking for venison, bear, moose, salmon, antelope, or any other wild game!
Donate other food supplies, have random leftovers from the season? Let us know, any food donations help!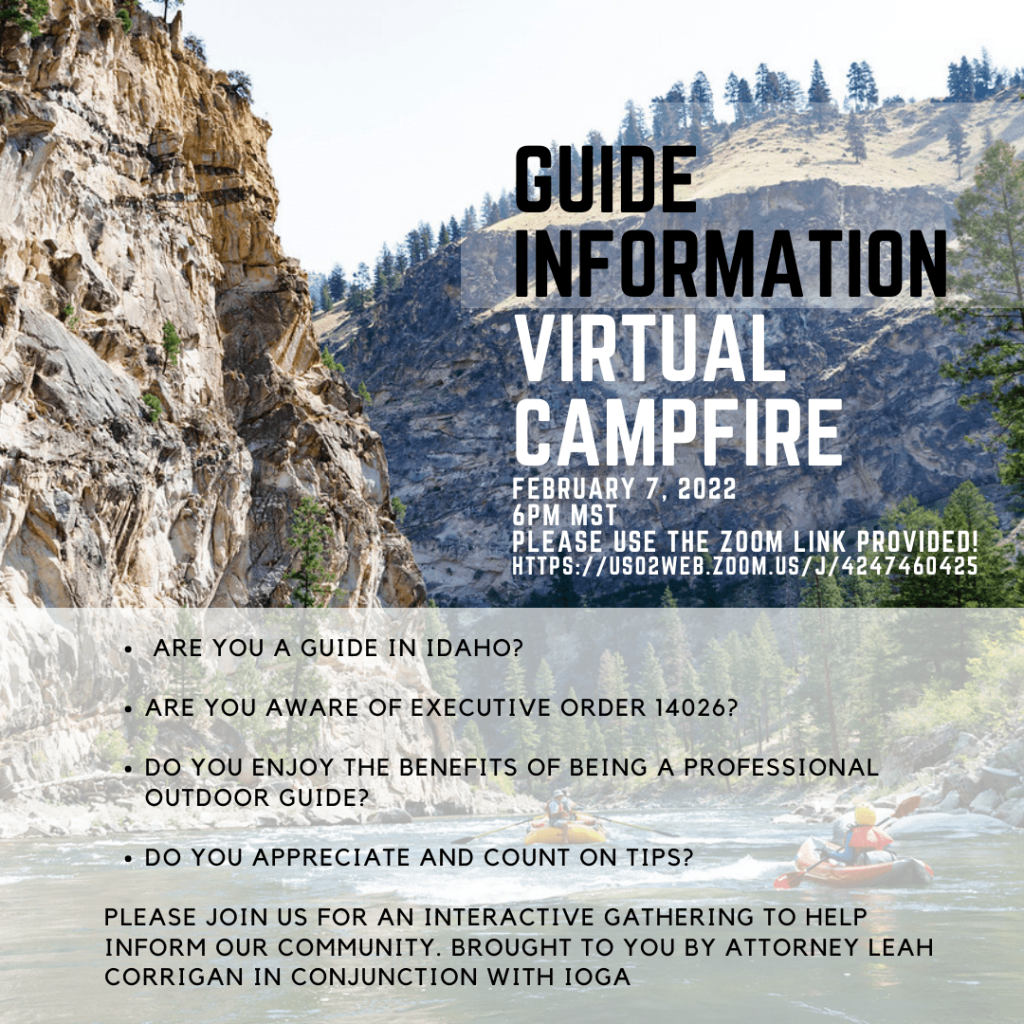 IOGA has an open position, we are looking for a Development and Events Manager. Lauren is moving on to work with an Idaho river outfitter. She had a great time at IOGA and is excited to work with IOGA in the future as part of the Idaho outfitting and guiding community.
Help spread the word! Job Description HERE
Hunt Outfitting Business For Sale: Korell Outfitters is selling a portion of the business on the South Fork Payette. Comes with guaranteed tags and summer recreation opportunities. Read More. Contact Chris Korell at (208)484-1787 for questions.
ADA-Accessible Adventure: Idaho Tourism is putting together a list of outfitters who currently offer ADA accessible experiences. If you already have ADA accessible trips, or could easily put together an experience, please email Andrea Rayburn (Tourism Specialist), [email protected]
Focus Group on Federal online Permits/Contracts: Sheri Hughes is looking for commercial operators to be part of a focus group. Give your opinion on the way commercial activities are managed by different management agencies. Contact Sheri at [email protected]
Redside Community Building Challenge Starts Today!
Guide Gathering at the Little Ski Hill in McCall, February 2nd
Heinz & Barbara are passing on the outfitting business on the Main Salmon: Heinz and Barbara will continue to live at 5 Mile Bar. Whitewater Expeditions will be run by new operators, Jake & Autumn Cameron. Read More
Main Salmon boat ramps: Old Lucile Boat Ramp, and Twin Bridges ramp are open for use. Slate Creek and White Bird Gravel ramps are closed until the end of March for improvements.
Working Group on Snow Vehicle Travel Management in North Idaho: The working group has had a few meetings this winter. If you would like to volunteer and be involved contact Karen DiBari from the National Forest Foundation.
Read & Watch
- Federal Minimum Wage and Rafting Outfitters, GreenWire
- Colorado River Outfitters Association Lawsuit, Adventure Journal
- Executive Order, Salt Lake Tribune
- Idaho Climate Economic Impact Assessment by U of I
- Steelhead found dead near Dworshak Dam, NPR
- Chinook Salmon, Outside Online
- Clearwater River Steelhead Guide by Reel Time Fishing
- Watch a short film by OARS on long-time outfitter Curt Chang
- Salmon-Challis Forest, Accomplishments Report
Legislative Update
Week Three Idaho Legislative Update:
Idaho's Redistricting / Reapportionment Update: The Idaho Supreme Court issued a unanimous opinion Thursday upholding the new legislative political boundaries approved late last year by Idaho's bipartisan redistricting commission. The ruling removes much of the uncertainty that surrounded the state's new legislative boundaries heading into the May 17 primary elections and the Feb. 28 opening of the candidate filing declaration window. Thursday's opinion means the 35 new legislative boundaries will be in place for the May primaries. Thursday's ruling, however, did not resolve a separate challenge to Idaho's congressional boundary plan. The court is still considering that challenge.
Campaign Finance Update: With the midterm primary election less than four months away, candidates for statewide office in Idaho are closing in on $5 million in fundraising, with about $2 million coming from Gov. Brad Little and Lt. Gov. Janice McGeachin's campaigns for governor. Gov. Brad Little has still not announced if he is seeking a second term in the Republican primary, but he has raised nearly $1.4 million since the beginning of 2021. If he runs, one of Little's challengers will be Lt. Gov. Janice McGeachin, who announced her run last summer. McGeachin has raised more than $504,000. Her total also includes a $200,000 contribution of her own funds on Dec. 31. Ed Humphreys, who is also running as a Republican, has raised more than $251,000 from 506 donors who mainly live in the Treasure Valley area. That total includes $10,000 from Humphreys' own funds. Ammon Bundy, who is running as a Republican, shot up in the fundraising tally from $19,000 in large-dollar contributions at the end of 2021 to more than $292,000 as of Jan. 26.
Lieutenant Governor Race: Speaker of the House Scott Bedke, R-Oakley, has more than $433,000 in his campaign coffers, compared to Rep. Priscilla Giddings, R-White Bird, who has raised more than $360,000. But there's a large disparity between the number of donations between the two candidates. Bedke has 552 donations as of Jan. 26, versus Giddings' 2,245. Terri Pickens Manweiler, a Boise attorney who is the only Democrat in the race so far for lieutenant governor, has raised $102,800.
Legislative Races: According to reporting from The Idaho Capitol Sun "So far in the 2022 race for Idaho's House and Senate seats, more than $597,000 has been raised for House candidates, and more than $509,000 has been reported for Senate candidates." Individual campaign finance reports can be found at the Idaho Secretary of State's office. There is also a district-by-district report of all candidates that can be found in THIS article.
Crisis Standards of Care: As Idaho deals with the highest COVID-19 cases and positive test numbers seen so far, the Idaho Department of Health and Welfare has now activated crisis standards of care throughout Southern Idaho. The action was placed on three local public health districts, including Central District Health — which encompasses Ada, Elmore, Boise, and Valley counties — due to "severe staffing and blood shortages," according to the release. South Central and Southwest District Health will also have crisis standards activated. Crisis Standards of Care allow hospitals to triage patients based on the severity of their condition and likelihood of survival. "The highly contagious omicron variant has thrown us a curveball," Health and Welfare Director Dave Jeppesen said in a news release. "Once again, the situation in our hospitals and health systems is dire — we don't have enough resources to adequately treat patients."
Unemployment Rate At All Time Low: Idaho's seasonally adjusted unemployment rate was 2.4% in December, a historic low and one-tenth of a percentage point below the state's previous record of 2.5% in December 2019.